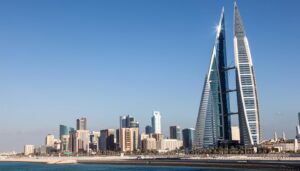 Bahrain is an island country located in Western Asia. Situated on the Persian Gulf Bahrain comprise of 50 natural islands and 33 artificial islands. Manama is the capital of Bahrain. Bahrain has a subtropical climate. Clear warm beaches, camels, dates, palms, sand, pearls and the ancient civilization make Bahrain an attractive place. The country is also famous for having the largest underwater theme park in the world (Dive Bahrain). Bahrain also has one of the largest single-site aluminium smelter (Alba) in the world. The main businesses done in Bahrain are aluminium and petroleum business. The relaxed cosmopolitan culture, high human development index, job opportunities, low cost of living, tax exemptions and so on make Bahrain an ideal destination for expats.
While in Bahrain you are expected to follow the laws and regulations of the country. Also you should have an in detail knowledge about the immigration laws before moving to the country. It is recommended to contact immigration and relocation service providers to assist you in moving to Bahrain. Helpxpat, international movers Bahrain offers comprehensive relocation solutions. Being one of the reliable international movers we make relocation easy and simple for you.
Some of the best places to visit in Bahrain
There are many captivating places to visit in Bahrain. The buildings in the country are unique and mesmerising. Some of the places which you must see are Al Fateh Grand Mosque, Adhari Park, Arad Fort, Qal'at al-Bahrain (Bahrain Fort), Barbar Temple, Saar Heritage Park, Tree of Life (Prosopis cineraria) and the Mountain of Smoke (Jabal al Dukhan). Known for ancient civilizations and heritage, in Bahrain you can also witness many ancient villages and historic buildings. Some of the other places which you can include in your list are Bahrain National Museum, Riffa Fort, Hawar Island, Amwaj Islands, Muharraq and Al Areen Wildlife Park & Reserve.
Shopping in Bahrain
Traditional markets in Bahrain give a glimpse of local culture. You can buy antiques, jewellery, spices, souvenirs, perfumes dry fruits, pearls, handicrafts and many more from the markets of Bahrain.
Some of the rules and regulations in Bahrain are as follows
• Dress has to be worn modestly. Tight and revealing clothes are not allowed
• Women have to use scarves to cover their heads while entering mosques.
• Everyone has to behave respectfully. Verbal insults and obscene gestures are prohibited.
• Illegal drug possession, use, and trafficking are banned. It can lead to imprisonment, heavy fines or even death penalty.
• Non-Muslims can buy alcohol in licensed stores. Drinking and driving and getting drunk in public are not allowed.
• There are also many criminal offences which are punishable like apostasy, murder, theft and so on.
• As per immigration law before you relocate to Bahrain you should have sponsorship.
• Applying for a work visa is possible only with a job offer.
Travelling guidance and assistance
Before travelling to Bahrain it is recommended to check the 'Entry requirements'. Because of pandemic travel regulations are changing and being updated frequently. You should also be aware of the regional and local developments in the place of your travel. Along with checking the entry system also examine the requirements of the exit system in Bahrain. All residents and visitors are required to carry photo ID. Remember to dress modestly and behave respectfully towards local traditions, customs, laws and religions.
Safety and Security
Bahrain is a safe country to visit and relocate. The crime rates are low and the country is a friendly and hospitable nation. However you have to be careful of burglary, petty theft, robberies and pickpockets. It is important be on your guard when you visit train stations and airports. Also be vigilant while driving especially at night to avoid accidents. Sandstorms and thunderstorms are common in the country. The temperatures can reach up to 50C.
Get in touch with Helpxpat, international movers Bahrain for a hassle free relocation to Bahrain.