About Us
Our
service
is our people. Our people share the qualities that
Helpxpat
values: integrity, creativity, customer service, kindness and humour. Time and again we hear that the level of service we offer our clients sets us apart. We believe this is because we love what we do and, above all, we really care about each assignment and each client, which makes Helpxpat one of the best relocation companies in Dubai and elsewhere.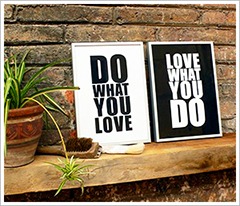 We are also expats who relocated for professional and personal growth, so we can help transfer your most valuable assets (your employees) effortlessly.
Best Relocation Companies Dubai
With almost 12 years of experience in the relocation industry, the company has unparalleled experience of the Middle East property market and corporate mobility industry. We have set our mission to assist companies and their assignees and families in relocation with excellent service and high quality expertise, whilst helping to optimize associated costs.We only employ the best in the business. We work with a team of highly qualified relocation consultants. All of them have been living abroad and speak two or more languages.At HelpXpat, being the best relocation company in Dubai and the whole Middle East. We recognize that we are often an extension to our clients' human resource department. With our help desk, your H.R. department needs only one phone number or e-mail address, to initiate and track requests for destination services. This simplified access allows valuable time and energy to be focused on other responsibilities.
Looking for relocation companies in Dubai city? Bravo, you have arrived at the page of one of the best in the business. For us, any move requiring travel beyond the United Arab Emirates is regarded as a case of international relocation. We can handle short-distance, long-distance and international relocation with upfront pricing, customizable options and a full suite of moving solutions. We have a big geographical footprint, which helps to simplify any local, long-distance or international move. Our extensive relocation network covers several nations.
As an expert team of movers, we can offer tailored solutions for each move that cover all your requirements with the full suite. Being a part of the best relocation companies in Dubai means that awards and other recognitions often come our way thanks to our quality services. With us, you can rest assured that you will get a quality service consistently from the point of origin to the destination. So, consider contacting us for a cost-effective, quality and stress-free relocation experience.
HELPXPAT Relocation Receives Commitment to Excellence Gold Award at Cartus 2020 Global Network Conference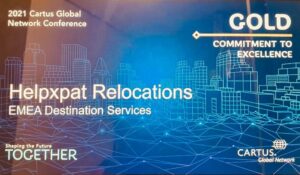 DANBURY, CONN. (13 October, 2020) – Helpxpat Relocation was honored for outstanding performance at Cartus Corporation's 2020 Global Network Conference, held virtually from October 7-16, 2020. The Cartus Global Network is Cartus' industry-leading worldwide service provider network. Each year, Cartus recognizes the companies and individuals in the Network who have provided extraordinary service to their customers and clients worldwide. The theme of this year's conference was "Foresight is 20/20."
HELPXPAT was named winner of the Global Network Commitment to Excellence Gold Award for its exceptional service results. This award recognizes a supplier's measurable commitment to excellence and is presented to Global Network service providers who have distinguished themselves by achieving critical performance metrics.
"Cartus Global Network providers are the support network for our transferees during such an important time in their lives and career. We are proud to have such a strong team who values professionalism, work ethic, attentiveness, and commitment to excellence above all else," said Eric Barnes, CFO and Senior Vice President of Supply Chain Management. "Helpxpat Relocation is one of the Cartus Global Network providers who exhibits this caliber of excellence."
Helpxpat is a leading relocation company, providing a full suite of International relocation services. We help organizations, employees and their families effectively and efficiently manage their relocation throughout the Middle East, Europe and Africa.
"Cartus has always maintained rigorous criteria and performance standards for their Network providers, but also for the recipients of the Gold Commitment to Excellence award," said Simi Sujith, Managing Partner of Helpxpat Relocation. We're proud to be a part of Cartus' Global Network, and to have received this honor, which recognizes our mutual commitment to quality, superior service and to finding innovative ways to provide that service in the changing face of relocation."
"Settling into a new country is like getting used to a new pair of shoes. At first they pinch a little, but you like the way they look, so you carry on. The longer you have them, the more comfortable they become"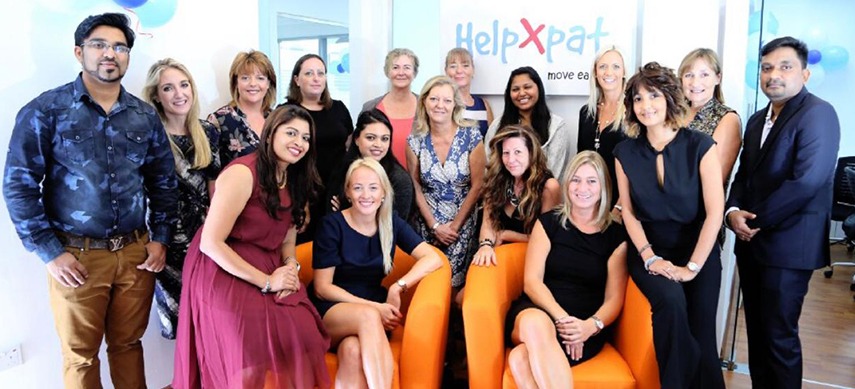 Here at Helpxpat we are proud of our reputation
Arjan
Senior Vice President Middle East & Africa
"Happy to provide feedback on the services that we received from HelpXpat Relocation. "
We have been very pleased with the services provided. I would rate you as the best we've experienced out of a number of international relocations.
Differentiators: Your staff is very well connected and share info: Dawn would hand over to Sally to Sandra… all seemed to be fully informed about our status.
Professional services: All ladies we worked with had a solid background in real estate, may be from different angles but they knew what they were talking about. Also the back-office support – dealing with the admin side of the move – was very well organized. Communications with the back-office and field team were good, always reachable and supportive.
Another differentiator: We did get a clear overview of the "to be visited" communities and properties from both Dawn and Sally. Well prepared, and well connected with the real estate agents. Not a rush program, time to digest, talk in the car which made the whole experience a good one. Ladies were flexible and adjusting the program "on the run" to satisfy our needs and requirements. Some last minute house viewings were facilitated, which was very efficient and helpful for us. Also the summary of properties – after the visits – was very useful as it helped us structure our thoughts so well informed decisions could be made. Similar good experience with Sandra visiting the Al Manara Municipality for my driving license application: all required documents were prepared so the process went very smooth and quick.
Also the follow-up during and after contract signing were excellent. Great support from the HelpXpat team during pre-inspection, hand-over etc and completion of all paperwork around the rental contract.
The HelpXpat team has really made our Onboarding and familiarization in Dubai a good and pleasant one! You've made a difference!
Imad El
R&D Manager, Middle East Region, Dubai
"Thank you so much for the support HelpXpat extended to me during my Dubai settling in process. Though as many of you told me that settling in Dubai is a painful process which may take up to the first 90 days (which actually is), but with HelpXpat support and guidance this experience was easier and tolerable especially when you know that there is someone who is experienced holding your back. With all respect, I would like to thank HelpXpat for dedicating two of their most courteous and experienced and yet very professional and pleasant to work with, meaning Sally and Simi. There is nothing that I personally asked for that these two ladies did not answer or support me on promptly. Please extend my sincere regards and appreciation to both ladies. Big shout out to Sally and Simi would definitely recommend HelpXpat to any of our new employees who are currently settling in Dubai, I will also spread the word among other professionals and friends of mine as necessary.
Good job and God Bless."
Marie. C
HR Director -MENA Region
"Congratulation for a well done job for the relocation service offered by HelpXpat for our employees!!! "
Sara H
Regional Manager, Oil and Gas firm, Dubai
"We would like to say a big thank you to Karen Shaw and the HelpXpat team for helping us to find a place to live so quickly and efficiently!! Karen went out of her way to help us find the perfect place. She was determined, reassuring, and an absolute delight – nothing was too much trouble. Not only did we find a place on the first day of looking with HelpXpat, but checks and formalities were completed quickly allowing us to move in a couple of days later! It's been a great experience dealing with HelpXpat – we will be recommending HelpXpat and the team to any friends we have who are looking for Home search in the area! Thanks again!!"
Bob S
Project Director, Saudi Arabia
"Service of HelpXpat is excellent, they are very friendly, flexible, cooperative, creative and very helpful… Myself and family are impressed by the service given by them and we are looking forward to their further support"
Elizabeth G
Senior Projects Development Manager, Abu Dhabi
"Thank you so much for all your work on my relocation from Australia to Abu Dhabi. You have made the process very straightforward, quick and stress free for me!! Thanks again"
Leonardo T
Vice Chairman, Banking Sector, Qatar
"A huge thank you from both Angeline and me for all your patience, professionalism and sound advice to achieve orientation and home search assistance provided by HelpXpat. We have been delighted to have had you handle our relocation and have already recommended you to other colleagues. Thank you once again and all the very best"
Oliver G
Chief Operation Officer, Abu Dhabi
"My wife and I recently worked with Nina in our flat search in Abu Dhabi. I just wanted to let you know that we had a great experience working with Nina. She was very helpful in finding properties that met our requirements and suggesting alternative options in the Local Market. Nina was diligent, committed and professional. We have dealt with other agencies in the past and found that many others simply unlock property doors without knowing what is on the other side! I have found that HelpXpat trains their people to know the market well, know the properties and match to the client's needs. I would not hesitate to work with her again in the future and/or recommend her and your office to friends"
"My household goods were completely packed yesterday and I hope the crating of the 3 motorbikes and the 2 expensive bicycles was done too. The Cayenne was picked up this morning and should be at Jebel Ali port now. Your team did a very good job, they came in time, packed everything in cartons properly with the right remarks of the boxes' content and finished ahead of time. Thank you very much for your support before and during the relocation"
Dave S
Director of Major Pharmaceutical company– Qatar
"I want to thank you for your help and professionalism with regards to my relocation to Qatar. HelpXpat has been a great help in finding a home and a school for my kids and assisting my settling services. Thank you very much for your help getting this finalized. We have been incredibly impressed with your proactive approach and hard work to get the tenancy agreed. We will definitely bear this in mind when it comes to future needs and recommendations to friends"
Caroline M
Construction Manager, South Africa
"Thanks a lot for being flexible and finding a house during such a short period, I really appreciate that HelpXpat managed to find 14 properties in just one day and close the deal. Good work! Nice team"
James F
Project Manager of an oil and Gas firm, Saudi Arabia
"I had recently used your company "HelpXpat" for relocation services in Saudi Arabia. I found that your consultant Ibrahim handled the relocation very professionally. I would like to let you know how hard Ibrahim works to try and find suitable Villa for me. We were astonished by his professionalism compared to so many others. We have several times been let down by other agents who failed to show up for viewings in Saudi Arabia. Will have no hesitation in recommending your company to any of my friends"
"I just wanted to express my gratitude to our relocation consultant Rosy for all her help during the school search for my kids. Nothing was ever too much trouble and she only ever behaved professionally and courteously and with great efficiency"
Russell P
Senior Lecturer of university, Abu Dhabi
"The knowledge, expertise, and service we received would be very hard to top! We could not have been more pleased with the helpfulness of and results achieved by HelpXpat Relocation. Every member of the team made clear to us that they were looking out for our best interests. Thank you"
Miguel P
Vice president, Aviation firm, Dubai
"Moving to Dubai with a cat and finding a flat within a week seems an impossible task, but it could not have been easier with the help of Simi, and Karen at HelpXpat Relocation. Thanks for having the keys in hand before my cat was due to arrive –within 48 hours! Special thanks from Gina too
Philip T
Director of a multinational Manufacture company, Abu Dhabi
"It was a pleasure dealing with HelpXpat especially with Louise. Despite being a picky customer you have been patient and reactive in finding solutions and accommodating all of my requests in finding suitable apartment in Abu Dhabi I would definitely like them to support me during my next move. Strongly recommended"
Sami D
HR Manager, FMCG, Saudi Arabia
"I just wanted to say a real big special thank you all for your help during the relocation of employees for our new project in Riyadh, Saudi Arabia. Mohammed, Ibrahim and Mike all your relocation consultants are very knowledgeable and they have got excellent experience and also work with us as a team and helped us in all stages of the relocation. I wanted to extend my sincere gratitude to you for your professionalism and efforts to make this relocation smoothly. It made such a difference! Look forward to hearing from you and I would like to thank you again HelpXpat for also your individual help. I am very happy and impressed"
David H
Senior Chemist, South Africa
"Our experience with HelpXpat went really well, not only for the options presented and support finding a villa in Sunninghill gardens in Johannesburg and find the most suitable school according to our needs in a short period of time. Best of all, was the treatment received from Lynn from HelpXpat Relocation which was a personalized service. She analyzed our personal needs and provided us with the best solution".