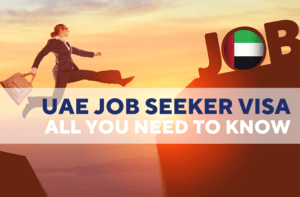 The UAE has recently issued a large number of visas. Very soon the job seekers who are visiting the UAE will have the benefit of the new UAE job seeker visa. As they were made exclusively for them, they could travel there without a sponsor.
Even a new entrance visa to "explore professional prospects" was also introduced by the UAE government in April of this year, which is known as the Job Exploration Visa. This visa is most likely to become final in September.
So, in this blog, we will give you a brief about the things you need to know of the new UAE job seeker visa and the direct employment visa to Dubai.
What is the Direct Employment Visa to Dubai?
According to the UAE government, the new visas, which include the one for looking into work opportunities, have the following features:
 No host or sponsor needed
60 days validity
Offers more flexibility
Can use a single integrated application platform
Although the application portal has not yet been made public, the visa's 60-day validity is double that of the norm. The regular visit visa is valid for one month.
Who is Eligible for this Visa?
The goal of the job exploration entry visa is to entice young talent and qualified professionals to investigate work prospects in the UAE. It will be granted to the following:
new graduates from 500 of the world's best colleges.
Those who have been classified as having the first, second, or third competence level by the Ministry of Human Resources and Emiratization (MOHRE).
Those with a minimum education level as bachelor's degree or equivalent.
Salaries and Career Progression
With increased freedom and flexibility, job searchers will be better able to weigh their possibilities and choose their next career. They will have more time to think about things like pay, work requirements, the nature of the job, and career advancement. Additionally, there will be fewer "job hoppers" and a higher chance for them to locate the appropriate work.
The new visa will help eligible job searchers, but individuals who work in fields with high levels of talent or competition can advance above those who are applying from abroad or on visitor passes by demonstrating their willingness to relocate.
These visas will provide job seekers the additional time they need to not only get ready but also have more time to ask their preferred employers for additional assistance. This will eventually assist in making the best choice and extending one's tenure with the company.
Getting the Right Help
Now that you have got a rough idea about the new direct employment visa to Dubai, you might wonder for a rigid help of a corporate PRO services in Dubai. Then you might want to look into HelpXpat's services.
They are an outsourcing business that specialises in processing corporate visas. Huge contracting and trading organisations require a lot of visas, and our large team of highly qualified PROs specialises in getting and processing these visas. From home search services in the UAE to departure services they have got your back no matter what