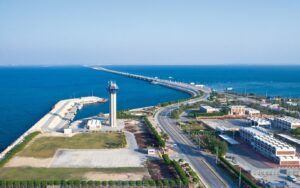 Are you excited to live the grandeur of Manama? Bahrain is indeed a beautiful country with highly advanced infrastructure and educational facilities. But to move or relocate into a country like Bahrain, the information you require does not end there. There are rules that you need to know and follow in order to have a safe stay in Bahrain. Beyond that, finding a home, or to find a job, to get a good place to stay, to know about the culture and many more, are all crucial considerations to start a wonderful life in Bahrain. To deal all these tedious process, hiring one of the best international movers to Bahrain like Helpxpat Relocation will be of great help. Our team who guarantees reliable contacts and knowledge will ensure that you reach safely and have a promising life in Bahrain.
Since a long time Bahrain has been the most favoured place for employment by expats. With a sponsorship which allows you to work in the country will help you get great work opportunities and lead a secured life. To find an accommodation, to get you a work and throughout your time in Bahrain, your sponsor will be responsible about you and the one who does all the paperworks on your behalf. Here Helpxpat relocation will be your reliable friend for an assured international moving to Bahrain, as being recognized as the best relocation company in Dubai. To move into a different country you should be aware of certain important things specific to the country. And now if your destination is Bahrain, read further to educate yourself on how to move into the country.
APPLY FOR VISA AND PERMITS IN BAHRAIN
If you are yet to secure a job, obtaining a visa can be hard, so organizations like Helpxpat, experienced as international movers to Bahrain can sponsor your visa. Then you will need to procure Bahrain residency visa and ID card with a job, business or you can also receive a visa on behalf of your spouse or parents who is already a Bahrain resident.
To apply for a visa you require a filled visa application for, passport, passport size photograph, sponsorship letter which mentions everything you require to work in Behrain, copy of your contract, health record form an authorised clinic, BD100 fee.
WORK CULTURE OF BAHRAIN
Work hours of Bahrain in a week vary from 40 to 48 hours, thereby daily working hours to be from 9 am to 6 pm. During Ramadan working hours are usually reduced to 6 hours. You will enjoy a minimum of 30 days of annual leave, 20 days of unpaid sick leave and around 35 days of paid sick leave. A mother can procure 60 days of fully paid maternity leave before and after birth., along with an additional time off to take care of the child up to one year of age with an allowance.
RENTING A PROPERTY
Renting a property is much popular rather than buying a new one which can get along with your budget. To rent a house in Bahrain you require your residency visa, passport, and proof of income. A good relocation services in UAE can ease your search for a home with their reliable and extensive contacts.
EDUACTION IN BAHRAIN
If you are relocating with you family there is nothing to be worried about the education of your children. Bahrain has good educational opportunities with international schools. There are also other public schools according to your considerations.
TRADITION AND CULTURE
Bahrain is open to a wide range of culture and faiths, which islam being the official religion of the country. Even when most of the life is influenced by Islamic culture, there are places of worship for many other religions
Be excited and prudent when you plan to move into another country. Good luck!